Understanding Weight Changes in Pregnancy and Postpartum
Background​
There are three studies under this theme that focus on understanding the many personal factors that contribute to weight and body composition changes in pregnancy and postpartum (for example: dietary intake, physical activity, breastfeeding, and sedentary behaviours).
ENRICH Activities
Alberta Pregnancy Outcomes and Nutrition (APrON)-Based Studies
Numerous studies have shown the effects of what we eat on our health. However, research is limited in showing the relationship between a mother's diet during pregnancy and the long-term health outcomes of the mother and baby. Mothers, fathers, and infants in Alberta have supported APrON to help researchers understand the relationship between nutrition in mental and neurodevelopmental disorders during pregnancy and postpartum. Over 5000 mothers, fathers, and infants from Edmonton and Calgary participated in the APrON study between 2009 and 2013; participants entered the study from up to 24 weeks of gestation through to the third year of the infant's life, providing valuable information about their health and lifestyle. ENRICH is using results from the APrON study to help inform the development of strategies that support women in achieving healthy weights during pregnancy and postpartum. Dr. Bell is an APrON investigator focused on maternal nutrition, weight, and health. ENRICH researchers are continuing to analyze the extensive APrON data on women's diet, physical activity patterns, weight, and body composition in pregnancy and early postpartum. For more information on APrON, visit their website and see the Publications section below.

Postpartum Calorimetry (PCAL) Study
Energy needs during the postpartum period are not well-known and what is known is from studies carried out in the 1960's and 70's. The PCAL study used a whole body calorimeter (see picture below) to precisely measure the energy requirements of women at three and nine months postpartum. Fifty-one women participated, making this the largest study of its kind ever conducted. Data collection was completed in December of 2015; analysis is now underway and we will be posting the results soon.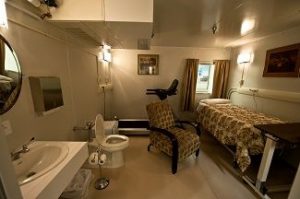 The Calorimetry Unit is a small, climate-controlled room located in the Clinical Research Unit on the second floor of the  Li Ka Shing Centre for Health Research Innovation at the University of Alberta. It is equipped with a bed, treadmill, TV, computer, chair, table, sink, and toilet, providing the comforts for daily living.
Literature Scan of Promising Practices to Promote Healthy Weights in Pregnancy and Postpartum
A review of the literature was conducted, which identified a group of promising practices used in research studies that promote appropriate weight gain in pregnancy and appropriate weight loss in the postpartum period. These practices are combined in a randomized control study called Be Healthy in Pregnancy (BeHIP). BeHIP is currently looking at whether additional support from a Registered Dietitian can help women achieve healthier lifestyles during pregnancy.
In the Media
Related Publications
Jarman M, Yuan Y, Pakseresht M, Shi Q, Robson PJ, Bell RC, Alberta Pregnancy Outcomes and Nutrition study team … ENRICH team . (2016). Patterns and trajectories of gestational weight gain: a prospective cohort study.. CMAJ open, 4 (2), pp. E338-45
Jarman MJ, Bell RCB, Nerengberg KN, Robson PR. (2017). Adherence to Canada's Food Guide recommendations during pregnancy. Current Developments in Nutrition, 1 (6),
Jarman, M., Mathe, N., Ramazani, F., Pakseresht, M., Robson, P. J., Johnson, S. T., & Bell, R. C. (2018). Dietary patterns prior to pregnancy and associations with pregnancy complications.Nutrients, 10(7) doi:10.3390/nu10070914
Pereira, L. C. R., Elliott, S. A., McCargar, L. J., Bell, R. C., & Prado, C. M. (2018). Changes in energy metabolism from prepregnancy to postpartum: A case report. Canadian Journal of Dietetic Practice and Research, , 1-5. doi:10.3148/cjdpr-2018-016
Elliott, S., Pereira, L., McCargar, L., Prado, C., & Bell, R. (n.d.). Trajectory and determinants of change in lean soft tissue over the postpartum period. British Journal of Nutrition, 1-9. doi:10.1017/S0007114518002015
Pereira, L.C.R., Purcell, S.A, Elliott, S.A., McCargar, L.J., Bell, R.C., Robson, P.J., Prado, C.M. (2019). The use of whole body calorimetry to compare measured versus predicted energy expenditure in postpartum women. American Journal of Clinical Nutrition, 109, 554-565 doi: 10.1093/ajcn/nqy312