Working with Community-Based Organizations
Background
As part of ENRICH's work with Community-Based Organizations (CBOs), we wanted to learn more about women who experience significant barriers to healthy pregnancies due to particular challenges that they face. Examples of barriers to healthy pregnancies that these women may face include: living with poverty; language barriers; recent immigration to Canada (sometimes refugees); limited access to health services, housing issues, and food insecurity. These realities can leave women and their families with unmet needs that may result in poor pregnancy outcomes.
Ultimately, our goal was to not to only learn about the experiences of these women, but also to identify relevant and appropriate strategies that could meet the diverse needs of these women and help promote healthy pregnancies within the context of CBO's.
Partnerships
We partnered with two community-based organizations: one in Edmonton (The Multicultural Health Brokers Cooperative) and another one in the rural area outside of Calgary (Healthy Mom's Healthy Babies). We spoke with women connected to these organizations as well as the organization's service providers to explore their perceptions of what healthy pregnancies and postpartum are.
ENRICH Activities
In collaboration with MCHB, three strategies have been used to address the research findings listed above: The Grocery Run Program, The position of a Community Resource Coordinator and the Community Economic Development Initiative. Learn more about these projects below.
Qualitative Findings: Healthy Moms Healthy Babies
Healthy Moms Healthy Babies (HMHB) was led by AHS in collaboration with community partners  in rural, southern Alberta. The program supported pregnant and parenting women facing difficult life circumstances and challenges with isolation, finances, physical or emotional health, healthy nutrition, family conflict, and/or addictions. HMHB offered group support with nutrition and prenatal health education; one on one visits with a nurse, dietitian, and/or outreach worker; food vouchers and prenatal vitamins; and referrals to healthcare providers or community agencies as needed. HMHB is one of 276 Canada Prenatal Nutrition Programs that focus on maternal/child nutrition and health of pregnant and postpartum women facing difficult life circumstances. We conducted focus groups with women accessing the HMHB program to explore what health during and after pregnancy meant to them. We were particularly interested in understanding how difficult life circumstances were intertwined, and possibly intensified because of pregnancy, postpartum, and rurality.
Through our research with Healthy Moms Healthy Babies we found that: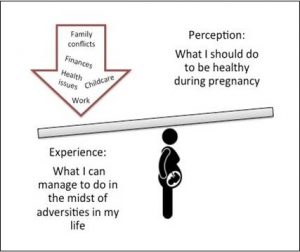 Women identified that eating healthy, taking prenatal vitamins, being physically active, looking after their emotional well-being, and stopping any behaviour they perceived as harmful to their babies (i.e., smoking), were key to being healthy during pregnancy.
Women identified that the support from social networks, including services and resources provided by HMHB were key factors that facilitated a healthy pregnancy.
Women found that the services and resources provided by the HMHB helped them to address some of the challenges they faced such as mental health and addictions issues, partner abuse and food insecurity.
The HMHB program included cooking circles, fresh food boxes, coupons and provided a safe space where women could receive meaningful and respectful support from providers. With such potential, community-based programs need to be well supported through policies.
Qualitative Findings: Multicultural Health Brokers
The Multicultural Health Brokers (MCHB) Cooperative is a community-based organization in Edmonton that works with newcomer families and provides them with essential supports that enable them to thrive. Health brokers (ie. service providers who serve women connected to Multicultural Health Brokers) at the Cooperative support families in bridging the knowledge they bring from their home country and Canada's health, social services, education, justice, immigration, and employment systems. The broker's own culture are representative of the 25 different communities they work with. Collectively, they serve over 2000 families a year.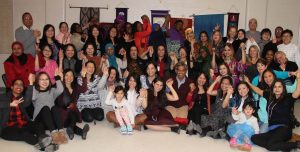 We conducted focus groups with women from four Northeast African communities (Eritrean, Ethiopian, Oromo, and Somali) who were accessing 
a perinatal program offered by the MCHB. We wanted to better understand migrant women's perceptions and experiences of health during pregnancy and postpartum in Canada. Additionally, we conducted interviews with the health brokers (ie. service providers who serve women connected to Multicultural Health Brokers) of the MCHB Cooperative to better understand their experiences supporting these women.
Through our research with MCHB we found that:
Northeast African women who participated in focus groups recognized the importance of healthy eating, being physically activity, and being emotionally well for a healthy pregnancy and postpartum. However, they did not specifically identify appropriate maternal weight gain as a priority during pregnancy.
These women also spoke about the differences in social supports and both physical and built environments between their home countries ("back home") and Canada ("here"). Overall, women described that "here" they lacked the social and environmental factors perceived as key enablers of healthy pregnancies and postpartum.
Living without extended family members and friends' support made women feel they lacked the emotional and instrumental resources to eat healthy and be physically active while pregnant and postpartum.
Health brokers identified that food crisis regularly overshadowed the services offered by health brokers and they in turn spent much of their time addressing the emergency food needs of women and their families.
The Grocery Run Program
The Grocery Run Program (GRP) first began in September 2016. The main  goals of  this program are providing same-day emergency food to pregnant and postpartum women and their families  and reducing the need for health brokers to respond to food crises which allows them to focus on their actual practice and thus enhance their organization's ability to operate . In March 2017, the program served approximately 30 families per week; In November 2017, it distributed anywhere from 300 to 500 kg of food to 80 to 90 families per week. By August 2018, the program had grown to serve 100-130 families weekly. Currently, the program continues to serve 100-130 families every week.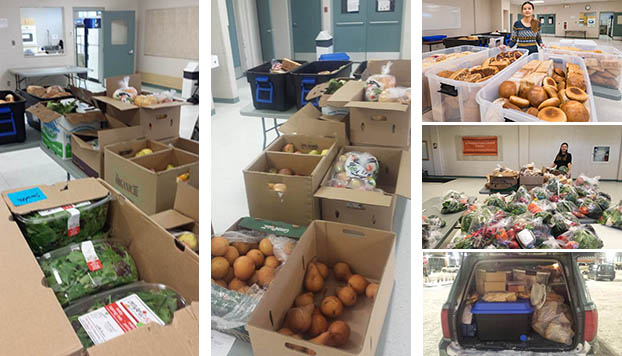 The GRP is volunteer-based program, supported by dedicated volunteers from the
University of Alberta Alumni Association
, the Winnifred Stewart Foundation, and the greater community. It is currently run by the University of Alberta Alumni and community volunteers. The program operates out of the Edmonton Intercultural Center, and has four regular and four occasional food donors, including COBS Bread Distillery District, the Little Potato Company, Organic Box, Planet Organic, Lady Flower Gardens, Prairie Urban Farm, and Alberta Canola.

We recognize that the GRP does NOT get to the root problem of food insecurity: insufficient income. However, this program does aim to alleviate health brokers time and stress when it comes to responding to food crisis situations. We hope that by supporting health brokers, they, in turn, will have more time to support women and their families in other meaningful ways as they settle into their new lives in Canada.
Growing community partnerships – The Leftovers Foundation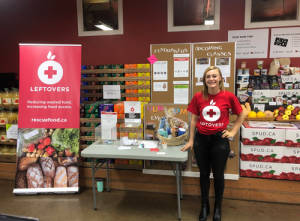 While the demand for food through the Grocery Run Program continued to rise, the amount of food available through food rescue began to plateau. Despite approaching many food vendors about the possibility of arranging food rescue operations, the Grocery Run was continually turned away due to concerns of liability and/or  increased operational burdens. We realized that increasing food rescue operations on our own was not effective, so we approached the Leftovers Foundation. This charity has been highly successful in creating an efficient city-wide food rescue system within Calgary; they res
cue food each week, picking up food from over 70  food vendors and redirecting it to more than 50 service agencies. Through this
partnership, we were able to provide the capacity of t
he Co
mmunity R
esource Coordinator
to oversee the operations and grow the  presence of Leftovers in Edmonton.
Ultimately, the goal of this partnership is to establish a city-wide food rescue system to increase the quantity of food redirected to not only the Grocery Run Program but other social service agencies across the city. 
So far, Blush Lane Organics, Planet Organic (2 locations), the Italian Centre Shop (3 locations), COBs Bread, the Little Potato Company, Organic Box, Good Earth Cafe, Transcend Coffee, Save on Foods, 124 Grand Market vendors, and Bonjour Bakery have all come on board as food vendors through the Leftovers Foundation. Additionally, Prairie Urban Farm, Green and Gold Farm, the Edmonton Organic Growers Guild, and various other events and organizations throughout the city have joined us as occasional food vendors. As a result, we now have the capacity to increase the volume of food available through the Grocery Run Program so that we can better meet the needs of the clients accessing it. We have also started to bring additional food into the Edmonton Intercultural Centre on other days throughout the week so that the fridges are always stocked for clients experiencing food crises.
The Community Resource Coordinator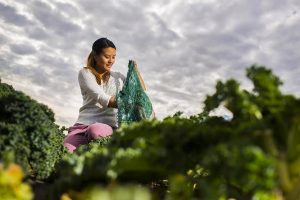 It is important to note that the GRP was made possible through the position of a Community Resource Coordinator (CRC). The CRC played a leadership role in getting the program off the ground and has previously been involved running of the program each week. As the GRP has evolved so has the position of CRC, as the running of the program has increasingly been taken over by our volunteers. The CRC is now a part time position and its main role  is to coordinate resources for the GRP via partnership with the Leftovers program.
Next Steps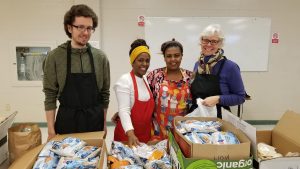 In order to address root causes of poverty and food insecurity the ENRICH team and MCHB have decided that more
extensive work is needed to explore solutions based on the strengths and dreams of the clients that they serve. One way to do this is to explo
re business opportunities in Edmonton where women were could be engaged as the primary decision makers. Hence, the Community Economic Development Initiative was started!
Community Economic Development (CED) Committee
Recognizing that the Grocery Run could not address long-term issues to poverty, the ENRICH team partnered with MCHB to explore solutions based on the strengths migrant women. The team reached out to the Office of Alumni Relations to help find Alumni who had skills in business development and community building. These engaged Alumni have become regular members of the Community Economic Development (CED) Committee.
This committee's goal was to support immigrant women in developing micro-enterprise and self-employment opportunities. Over the course of one year the committee worked together with the Health Brokers at the MCHB Cooperative to identify those requiring supports, and the barriers hindering the achievement of their goal. Ultimately, the committee realized that the needs of these women and their families was far beyond the scope of simply finding opportunities and turned towards focusing on capacity building, including the following:
Applying and receiving funding for a micro-enterprise broker within the MCHB Cooperative.
Identifying several large barriers that need to be addressed before successful entrepreneurship can take place.
Connecting the brokers with other entrepreneurial supports in Edmonton. Once it was established that some barriers would be difficult to overcome within the confines of this project, connections were made between MCHB and other employment supports.
In the Media
Related Research Publications
Quintanilha M, Mayan M, Thompson J, Bell R. (2015). Different Approaches to Cross-Lingual Focus Groups. International Journal of Qualitative Methods, 14 (5), pp. 160940691562141
Quintanilha M, Mayan MJ, Thompson J, Bell RC. (2016). Contrasting "back home" and "here": how Northeast African migrant women perceive and experience health during pregnancy and postpartum in Canada.. International journal for equity in health, pp. 80
Quintanilha, M., Mayan, M. J., Raine, K. D., & Bell, R. C. (2018). Nurturing maternal health in the midst of difficult life circumstances: a qualitative study of women and providers connected to a community-based perinatal program.BMC Pregnancy and Childbirth, 18, 314. http://doi.org/10.1186/s12884-018-1951-6
---
1Goodrich K, Cregger M, Wilcox S, Liu J. A Qualitative Study of Factors Affecting Pregnancy Weight Gain in African American Women. Matern Child Health J 2012.
2 Groth SW, Morrison‐Beedy D, Meng Y. How pregnant African American women view pregnancy weight gain. Journal of obstetric, gynecologic, and neonatal nursing : JOGNN / NAACOG 2012;41:798‐808.