Working with Community-Based Organizations
Background
As part of ENRICH's work with Community-Based Organizations (CBOs), we wanted to learn more about women who experience significant barriers to healthy pregnancies due to particular challenges that they face. Examples of barriers to healthy pregnancies that these women may face include: living with poverty; language barriers; recent immigration to Canada (sometimes refugees); limited access to health services, housing issues, and food insecurity. These realities can leave women and their families with unmet needs that may result in poor pregnancy outcomes.1,2
Ultimately, our goal was to not to only learn about the experiences of these women, but also to identify relevant and appropriate strategies that could meet the diverse needs of these women and help promote healthy pregnancies within the context of CBO's.
Partnerships
We partnered with two community-based organizations: one in Edmonton (The Multicultural Health Brokers Cooperative) and another one in the rural area outside of Calgary (Healthy Mom's Healthy Babies). We spoke with women connected to these organizations as well as the organization's service providers to explore their perceptions of what healthy pregnancies and postpartum are.
ENRICH Activities
In collaboration with MCHB, three strategies have been used to address the research findings listed above: The Grocery Run Program, The position of a Community Resource Coordinator and the Community Economic Development Initiative. Learn more about these projects below.
Qualitative Findings: Healthy Moms Healthy Babies
Through our research with Healthy Moms Healthy Babies we found that:
Women identified that eating healthy, taking prenatal vitamins, being physically active, looking after their emotional well-being, and stopping any behaviour they perceived as harmful to their babies (i.e., smoking), were key to being healthy during pregnancy.
Women identified that the support from social networks, including services and resources provided by Healthy Moms Healthy Babies, were key factors that facilitated a healthy pregnancy.
Healthy Moms Healthy Babies providers relieved the burden of adversity through the delivery of Healthy Moms Healthy Babies programming, as well as navigation to other social and health supports, especially for women coping with crisis in their lives (e.g., mental health and addictions issues, partner abuse, food insecurity, etc.)
Within Healthy Moms Healthy Babies programming, food offered through cooking circles, fresh food boxes and coupons acted as a "gateway". In other words, food brought people who would not otherwise come into a safe space where CBO providers provided much needed support in a respectful, meaningful way.
Qualitative Findings: Multicultural Health Brokers
Through our research with MCHB we found that:
Northeast African women who participated in focus groups recognized the importance of healthy eating, being physically activity, and being emotionally well for a healthy pregnancy and postpartum. However, they did not specifically identify appropriate maternal weight gain as a priority during pregnancy.
These women also spoke about the differences in social supports and both physical and built environments between their home countries ("back home") and Canada ("here"). Overall, women described that "here" they lacked the social and environmental factors perceived as key enablers of healthy pregnancies and postpartum.
Health brokers (ie. service providers who serve women connected to Multicultural Health Brokers) described spending much of their time addressing emergency food needs where women and their families lacked food for the day in their households.
The Grocery Run Program
Goals
The Grocery Run Program aims to:
Provide same-day emergency food to pregnant and postpartum women and their families through the program.
Reduce the need for health brokers to respond to food crises which allows them to focus on their organizational mandate is situations and in turn allow them to focus on their actual practice and thus enhance their organization's ability to operate.
Our Story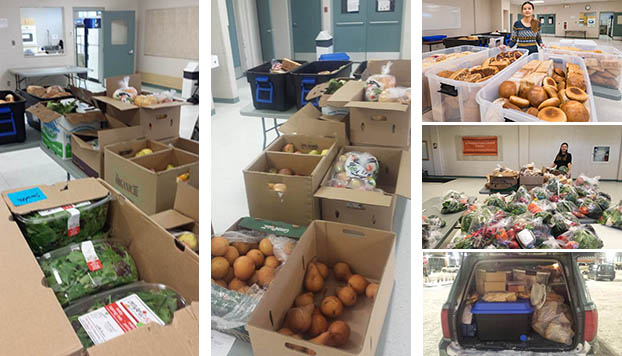 The Grocery Run Program (GRP) first began in September 2016. In March 2017, the program served approximately 30 families per week; In November 2017, it distributed anywhere from 300 to 500 kg of food to 80 to 90 families per week. By August 2018, the program had grown to serve 100-130 families weekly. The GRP is volunteer-based program, supported by dedicated volunteers from the
University of Alberta Alumni Association
, the Winnifred Stewart Foundation, and the greater community. It is currently run by the University of Alberta Alumni and community volunteers. The program operates out of the Edmonton Intercultural Center, and has four regular and four occasional food donors, including COBS Bread Distillery District, the Little Potato Company, Organic Box, Planet Organic, Lady Flower Gardens, Prairie Urban Farm, and Alberta Canola.

We recognize that the GRP does NOT get to the root problem of food insecurity: insufficient income. However, this program does aim to alleviate health brokers time and stress when it comes to responding to food crisis situations. We hope that by supporting health brokers, they, in turn, will have more time to support women and their families in other meaningful ways as they settle into their new lives in Canada.
The Community Resource Coordinator
It is important to note that the GRP is made possible through the position of a Community Resource Coordinator (CRC). The CRC played a leadership role in getting the program off the ground and has been involved running of the program each week.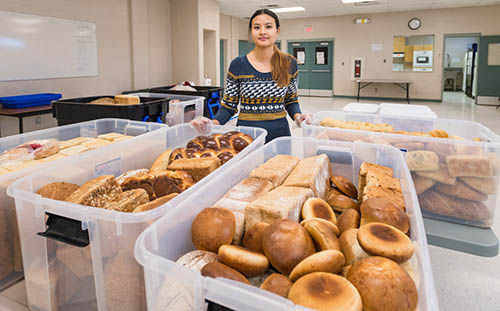 Next Steps
In order to address root causes of poverty and food insecurity the ENRICH team and MCHB have decided that more extensive work is needed to explore solutions based on the strengths and dreams of the clients that they serve. One way to do this is to explore identify business opportunities in Edmonton where women were could be engaged as the primary decision makers. Hence, the Community Economic Development Initiative was started!
Community Economic Development (CED) Committee
Goals of the CED Committee
The goal of the CED Committee is to support non-profit organizations to develop economic opportunities for vulnerable families through community economic development
Our Story
Recognizing that the Grocery Run could not address long-term issues to poverty, the ENRICH team partnered with MCHB to explore solutions based on the strengths and dreams of migrant women. The team reached out to the Office of Alumni Relations to help find Alumni who had skills in business development and community building. These engaged Alumni have become regular members of the CED Committee, and are working to explore micro-enterprise or social enterprise models that are aligned with MCHB's vision and goals. Brooks Hanewich will act as the Committee lead and brings to the table his years of expertise in business development for vulnerable communities.
In the Media
Related Research Publications
Quintanilha M, Mayan M, Thompson J, Bell R. (2015). Different Approaches to Cross-Lingual Focus Groups. International Journal of Qualitative Methods, 14 (5), pp. 160940691562141
Quintanilha M, Mayan MJ, Thompson J, Bell RC. (2016). Contrasting "back home" and "here": how Northeast African migrant women perceive and experience health during pregnancy and postpartum in Canada.. International journal for equity in health, pp. 80
Quintanilha, M., Mayan, M. J., Raine, K. D., & Bell, R. C. (2018). Nurturing maternal health in the midst of difficult life circumstances: a qualitative study of women and providers connected to a community-based perinatal program.BMC Pregnancy and Childbirth, 18, 314. http://doi.org/10.1186/s12884-018-1951-6
---
1Goodrich K, Cregger M, Wilcox S, Liu J. A Qualitative Study of Factors Affecting Pregnancy Weight Gain in African American Women. Matern Child Health J 2012.
2 Groth SW, Morrison‐Beedy D, Meng Y. How pregnant African American women view pregnancy weight gain. Journal of obstetric, gynecologic, and neonatal nursing : JOGNN / NAACOG 2012;41:798‐808.