Working with a First Nations Community
Background
One of ENRICH's objectives was to gain an in-depth understanding of how to better support pregnant women in a large Cree First Nations community with the ultimate goal of improving pregnancy-related health by identifying new and innovative strategies. These strategies were designed with the intention of addressing the unique needs that these women and communities face due to cultural destruction, historical trauma, socio-economic inequalities, and other related factors.
An important theme of this community-based participatory research is understanding the kinds of support that Cree women and families need during pregnancy and postpartum; the barriers faced when accessing health care; and how family, community, and culture influence this process. ENRICH partnered with the communities of Maskwacis in hopes of achieving these goals.
Enrich Activities
ENRICH team members have worked collaboratively with community members from Maskwacis since the inception of the project. Initially, a lengthy community engagement process was undertaken and a Community Advisory Committee was established. The Committee meets regularly and is a platform for equitable partnerships and collaboration. The Committee has steered every aspect of the research such that it has proceeded in a culturally appropriate and community relevant fashion.
The ENRICH projects with Maskwacis are community-driven and strengths-based approaches to supporting pregnant women. Learn more about these studies below!
The Healthcare Providers Study
We worked with prenatal healthcare providers in and around Maskwacis to better understand best practices for effective prenatal care for Cree women. An ethnographic community-based participatory research was carried out with data generated via in-depth interviews with 12 care providers.
From rich qualitative stories we learned that healthcare providers that are able to foster sincere, non-judgmental, and enjoyable interactions with patients may be more effective in treating pregnant Cree women, and better able to express empathy and understanding. Also, ongoing healthcare provider cultural understanding specific to the community served is crucial to trusting relationships, and arises from real experiences and learning from patients over and above relying only on formal cultural sensitivity training. Consequently, healthcare providers report being better able to adapt a more flexible, all-inclusive, and accessible approach that meets specific needs of patients.
The Father's Study
Very little is known of Indigenous men's perspectives and experiences during their partner's pregnancy, therefore we aimed to understand how Cree men support their partners during pregnancy. Six involved and role model fathers took part in a qualitative description and photovoice project.  
What did we learn?
Pregnancy is a chance for Cree men to reclaim roles that have been lost as a result of colonization.
Men need support to. Without themselves being supported by others they were unlikely to be supportive to their partners.
Family support was crucial for the men, especially having a stable environment, intact Cree kinships, and strong male role models during their childhood and development.
Maintaining a connection to faith and traditional culture was an equally significant source of support during the pregnancy.
Cree fathers play a crucial role in pregnancy but are often left out
Attempts to improve prenatal care for Indigenous women need to allow for more inclusion of male partners
Improving upon existing prenatal healthcare by incorporating traditional culture, providing male Elder support, and enhancing the cultural understanding and sensitivity of staff
Photovoice
*Photovoice is a qualitative research method. Participants are asked to share a photograph and to describe the meaning that these photos have to them.
| | |
| --- | --- |
| | |
| "It makes me not useless. I feel like I'm doing a good job. Even though I'm unemployed, I feel that I'm doing what I'm supposed to be doing right now. I'm where supposed to be. Obviously being an important person to somebody that needs you, being needed, it gives me purpose." | "I am exposing them to cultural events, I try to expose my children to the language. I try to tell stories about the land and try to get them to see the world through the lens of a Cree person, and as much as I can I make sure they use correct terms. Like my dad did." |
The Elder's Mentoring Program
From our very first Community Advisory Committee Elders wanted to "act now" and make meaningful and a long lasting positive impacts in their community. Specifically, they wanted to provide programming to support pregnant moms and their partners within the clinical setting by utilizing strengths that already exist in the community. In turn, and Elder's Mentoring Program was established in partnership with the Wetaskiwin Primary Care Network.
The Elder's Mentoring Program was piloted in 2015, expanded in 2016 and is currently ongoing. Elders from Maskwacis attend prenatal clinic days at the Primary Care Network and engage with pregnant women and their partners to provide social, emotional, spiritual, and cultural support.
The effectiveness of this program in supporting pregnant women and their partners is currently being evaluated qualitatively using a utilization-focused evaluation approach and by generating data with moms and dads that have participated, as well as the Elders and Primary Care Staff members that have facilitated the program. Preliminary findings suggest the program provides enhanced support networks for parents-to-be, a sense of fulfilment and enjoyment among Elders, and improved cultural understanding and sensitivity for staff.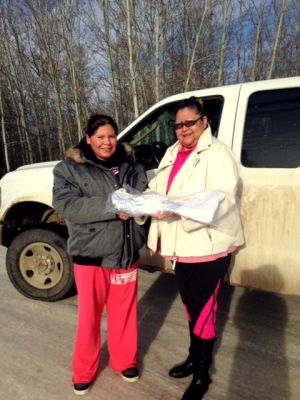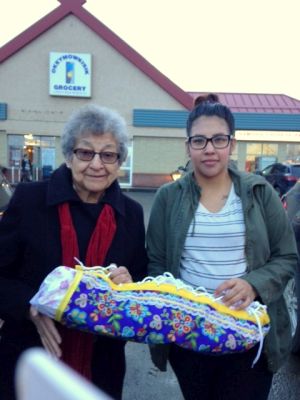 Cultural Sensitivity Interventions
ENRICH graduate student and Maskwacis community member, Grant Bruno, wanted to give back to his community with his graduate studies. Building off of the initial Health Care Providers study, Grant worked collaboratively with the Wetaskiwin PCN and the community of Maskwacis to organize and implement a variety of cultural sensitivity interventions for staff members that work with pregnant and postpartum women from the Wetaskiwin Primary Care Network and Maskwacis Health Service. Activities were designed in collaboration with and facilitated by Elders and community members from Maskwacis. Activities included lunch and learns where Elders spoke about the history of Maskwacis and Cree pregnancy, Samson pow wow, a sweatlodge ceremony, and a ceremonial feast.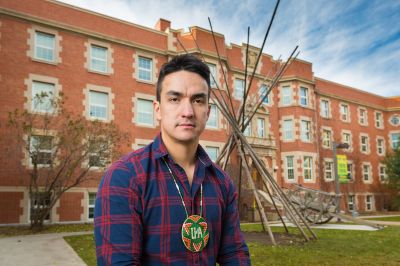 The goal of these activities was not only to help educate staff members, but also to create opportunities for open discussion, genuine relationship building, and experiencing Maskwacis in a positive way. By creating these safe spaces and opportunities for dialogue, we hope to help build healthy and sustainable relationships between the two communities.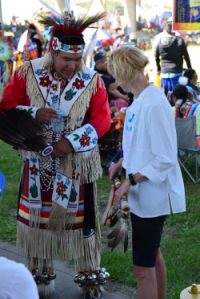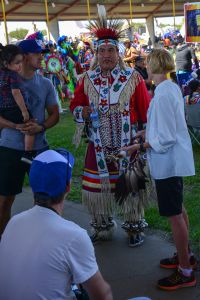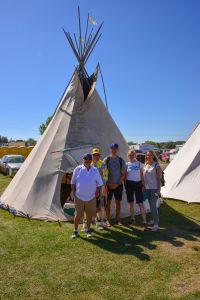 Currently, Grant is in the process of collecting both qualitative and quantitative data to assess the effectiveness of the activities and to learn how to improve the activities in the future.
In the Media
Related Publications
Oster RT, Bruno G, Montour M, Roasting M, Lightning R, Rain P, Graham B… Bell RC. (2016). Kikiskawâwasow – prenatal healthcare provider perceptions of effective care for First Nations women: an ethnographic community-based participatory research study.. BMC pregnancy and childbirth, 16 (1), pp. 216
Oster, R. T., Bruno, G., Mayan, M. J., Toth, E. L., & Bell, R. C. (2018). Peyakohewamak—Needs of involved nehiyaw (cree) fathers supporting their partners during pregnancy: Findings from the ENRICH study. Qual Health Res, , 1049732318794205. doi:10.1177/1049732318794205